Kansas Masons and Kansas University have had a long, well known relationship in the
battle against cancer.  Brother Dr. Roy Jensen is quick to extol Masons' early and sustained contributions that bolstered the Kansas Masonic Cancer Research Institute and led to their ultimate designation as a National Cancer Institute designated facility.  The latter makes it possible for funding that dwarfs our continued endowed support.  So, what's the next challenge?  Supporting the Midwest Cancer Alliance (MCA).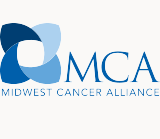 We've already begun that partnership by offering cancer screenings at our lodges throughout the state.  Through the MCA, Kansans now have access to the resources of KU Med and the KMCRI without having to travel to Kansas City.  MCA endeavors to add designated cancer care facilities throughout the state which not only provide a connection to the KMCRI but also significantly enhances the power of research, medical collaboration, clinical trials, therapy, and cures through cooperation between all the MCA designated hospitals and clinics.  MCA has recently added another community to the network which gives patients local access to the best cancer treatment nexus available when screenings find scary results.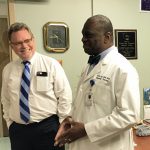 On November 1st, 2017, I had the fortune to accompany Hope Krebill, Executive Director, and other members of the MCA team to an Open House of Cancer Treatment Services at the Tatman Cancer Center in the Coffeyville Regional Medical Center, the newest member of MCA.  Coffeyville area residents and hospital staff were able to tour the facility, meet the oncology team, learn about their comprehensive program, and their new partnership with the Midwest Cancer Alliance.  Others in the MCA traveling team were Ashley  Spalding , Jim Coulter,  the "Bio Bank" coordinator Hanuen Quo, and one of our favorite friends of Masons and founder of the MCA concept, Dr. Gary Doolittle.
The tour revealed two things.  One was the cancer care already available at CRMC, which was formidable.  Second, was how valuable both CRMC and MCA saw their new partnership.  It was clear that Dr. Akin Ogundipe, Medical Oncologist and Hematologist, Dr. Michelle McGuirk, General and Trauma Surgeon, Dr. Nathan Uy, Radiation Oncologist, and the rest of the amazing doctors and staff at CRMC are committed to the advancement of cancer care and what the new partnership brings to southeast Kansas.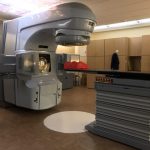 We Kansas Masons should know that we are held in highest esteem for our support to the MCA through our 50th Anniversary Campaign of the Kansas Masonic Foundation called "Building Kansas".   Once we reach our $5 Million target for an endowment to the MCA, they will rename it to the Masonic Cancer Alliance.  A brother and his lady from both Edna Lodge No. 345 and Keystone Lodge No. 102 were in attendance at the open house.  If they were like me, they were very proud to be Masons who made such a partnership possible now, and hopefully well into the future.